www.lily.org from March 1996
This is an archival version of www.lily.org from March 1996. The current site is at lilycore.sf.net.
---
Welcome to The lily Development Group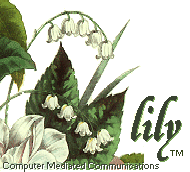 "Growing Communication Systems
for Internet Communities"
lily is an interactive Computer Mediated Communications (CMC)server.
Essentially, this means that it allows people at different places to talk to each other via computer.
lily is a real communication tool.
It was, and continues to be, designed and developed - with real people in mind. The initial goal was to improve online, real-time, communication between individuals and groups of people.
lily is flexible.
An equally important secondary development goal of the project was to provide flexibility to programmers to experiment, accommodate and adapt lily under a wide variety of methods and formats for communication.
lily is freedom of choice.
lily supports both personal and professional communication and it does so without one type interfering with the other.
While the initial goals for the project have been met, the development continues. We're always looking for ways to improve on its ease of use - of ways to help foster and facilitate interactive communication by and between real people.






Features - Design & Use
You Can Try lily
A Note To Programmers
More Information About lily
A Brief History of lily

Contact Us About lily

lily's Features - Design and Use
By trying to meet the communication needs of a wide variety of users, while maintaining a professional appearance, lily continues to work to bring itself into the world of available production CMCs. There are several features built-in (or that will be built-in) as the core features of lily:
Both private and public messages are part of the system. Private messages may be to groups, and public messages are to discussions.
People may be a member of one, many, or no discussions.
Messages are the most important activity, therefore sending messages is the easiest action on the system.
Signaling and notifications are available for a variety of actions by people and discussions. Signals and notifications may be turned off to reduce information overload.
All messages are authenticated from an account, but that account is always anonymous.
Because of this authentication with anonymity, it is possible to automatically ignore messages and actions from a particular user.
Communicating with people on the same server is the most important activity, therefore is the easiest to accomplish, Communicating with people and discussions on other servers is possible using the same methods as on one's default server.
The underlying structure is public, easy to understand, easy to modify, and supports a wide variety of ways to accept input and display output. The lily developers encourage extensions to the code.
Return to List

You Can Try lily...
The largest publicly accessible lily server runs here. To request an account, send email to <lily-admin@rpi.edu>
This highly customized lily server helps bring educators, students, and NASA scientists together for an interactive learning experience.
Maine's Largest local Internet Service Provider uses lily to facilitate internal communication amongst is widely scattered staff.
If you are running a lily server somewhere on the Internet and want to be listed here, please let us know at <webmaster@lily.org>.


Return to List






A Note to Programmers...
The lily project is, in its simplest form, an attempt to create a real-time, interactive, computer mediated communication tool (usually abbreviated in most lily documentation as a CMC) which is focused on interpersonal communication. While there have been many approaches to this in the past, lily attempts to borrow some key features from each one, and avoid some of the deficiencies and problems from each:
Various MOO and MUD systems
The emphasis has been on role-playing and construction, not communication.
The "virtual world" communication is an option in lily, since it provides a good communication method for many conversations
MOOs are best for their flexibility
IRC
Multiple servers are a powerful tool, since worldwide communication is an extension of lily's goals.
With this size - information overload is a major concern that lily actively sought to eliminate.
User authentication has always been a problem in IRC.
CONNECT and Clover
These systems provided the examples for efficient and professional person-to-person and group communication.
A concentration on a server to support a community (usually geographically located).
Limitations on naming and identifying people or groups has always been a problem.
Return to List

More Information About lily...
What is lily?
How do you use lily?
Mailing lists about lily
How do I administer lily?
Return to List





The lily CMC / <webmaster@lily.org> / 2 Mar 1996





This site was recycled

by The Spruce Harbor Group
"Helping to Keep the World Wide Web Free of Hazardous Waste Pages"